Enjoy Big Favorites
(and BIG Savings)
Mystery Cases are randomly packed with world-class wines. Choose a case of rich reds or refreshing whites ... or get the best of both worlds in an exciting mix.
12 bottles ONLY $59.99

Order NOW and get your FREE gift.
The quality is exceptional and the savings reach 40% ... or more!
Choosing wine can be fun. But with so much out there, it can also be daunting. If you want to drink very well, discover exciting new wines and pay very little, the Mystery Case Club from Laithwaite's Wine is perfect for you.
But why the mystery?
Because we favor small–production, hand–crafted wines, we're often left with quantities too small to advertise individually. And with new wines arriving all the time, we need to make room in our cellars.
These delicious "last bottles" are randomly packed into special Mystery Cases
and priced to clear — with bottles starting at JUST $5.84 each.
Choose your case — reds, whites, or a mix — and SAVE 40% or more!
You'll always receive a good selection of different bottles (never more than 2 or 3 of the same wine).
We'll tell you in advance about the delivery and there's never any obligation to take a case.
Choose the right plan for you and pay as little as $5.84 a bottle today ... and enjoy all your future cases for ONLY $79.99 (that's just $6.67 a bottle!).
And remember, you're guaranteed to enjoy the wines. If you don't like a wine we'll refund you for it. No mystery there!
Choose ... Receive ... Discover ... Enjoy ...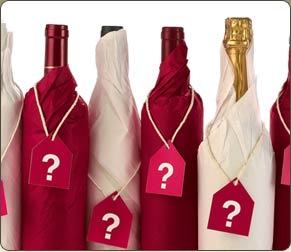 Select the perfect 12-bottle case for you — reds, whites or mix
Delivered within 10-14 days to your home or office
Tear open your case to find out what exciting wines are inside
Every bottle guaranteed to please — and you'll love paying so little!